A SHORT HISTORY OF DATCHWORTH BOWLS CLUB

Since its inception Datchworth Bowls Club has come from nowhere to become the envy of many a county player throughout Hertfordshire.

As a potential amenity on the new Turkey Farm Site, seventeen people attended a meeting on the 18th September 1978, in Datchworth Village Hall, and agreed to form the Bowls Club with membership open to both men and ladies.

A commitee was formed responsible for raising sufficient funds to build a six rink green, a clubhouse and obtaining sufficient membership to make the project work.

| | |
| --- | --- |
| Chairman | Les Walker |
| Secretary | Harry Cook |
| Treasurer | Les Roffe |
| Members | Janet Roffe |
| | Gladys Walker |
| | Arthur Warwick |
Its first AGM was held on the 8th November 1978, in the school hall, when twenty-two people attended; by the year end members had increased to forty-three. The membership fee was £1.00.
Of the forty-three members very few had any real idea about the game of bowls, so an arrangement was made with Herford Brewery Club at Port Vale, Hertford to hold training sessions on Sunday afternoons during the early part of 1979. Not yet having a green of their own. Datchworth was fortunate to be offered the use of the Knebworth Bowls Club facilities from July 1979 until the Datchworth Green was ready.
Eleven matches were played in 1979 and, not suprisingly, all were lost.
By the end of 1979 membership had increased to sixty-three.
The estimated cost of having the green built professionally was in excess of £20,000, so members of the club decided they would undertake as much of the preparatory work as possible before calling in Ernest Doe & Sons to actually lay the green for a cost of £12,000. Work started in 1979 by hiring a JCB and digging out the square on the land leased in 1978 from Datchworth Parish Council at a peppercorn rent of £1.00 per year. The inital lease was for twenty-eight years, But in 1987 this was extended to fifty years and later to ninty-nine years.
Grants were sought from everywhere, but with little sucsess. Eventually £1,500 was recieved from East Herts District Council, £250 from National Westminster Bank and several contributions from Datchworth Parish Council which totaled £400. In consequence much time in the early years was devoted to fund raising schemes of every sort which, together with the bank loan and individual loans from members, enabled enough funds to be accumulated for Ernest Doe & Sons to commence work in 1980.
Original Clubhouse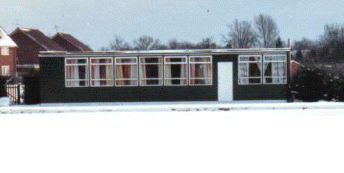 Unfortunately no money was left for a clubhouse; but Arthur and Gladys Marden, members of the club, donated a second hand builders hut to serve as the clubhouse. Throughout 1981 a solid band of members spent much of their time painting the outside, installing toilets, putting in the windows and lining the inside walls with formica. All the pipes for sewerage and water were laid by hand in trenches dug out mainly by George Willcox and Kevin Wright.
The bowls green was officially opened on 9th May 1982 by the presidents of Hertfordshire Bowling Association and the Hertfordshire County Women's Bowling Association.
Naturally with a new green the surface was extremely difficult to play on and, unfortunately, earned a bad reputation throughout the County for a few years.
With no let up in the fund raising activities and the installation of a licenced bar in 1983, all bank and members loans were repaid by 1984.
By the late 1980's the original clubhouse was starting to collapse. The cost of erecting a new one was £38,000, but with fifty percent grant from East Herts District Council, £100 donation from National Westminster Bank and further loans from members a new building was erected and opened on 31st March 1990. All members loans were repaid by 1992.
New Clubhouse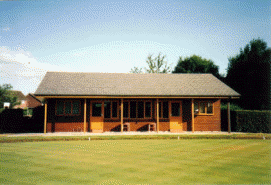 In 1994 a new equipment shed was acquired and during the winter an automatic watering system was installed, both with grants from East Herts District Council.

It is worth recording that members fund raising over the years, together with profits from the bar, have raised almost £40,000.

Today the club is rightfully proud of its playing facilities. The green has matured greatly since 1982 and is now considered one of the best, not the worst in Hertfordshire; a fact recognised by the County Association selecting Datchworth as one of the venues for playing the latter rounds of its competitions when a "neutral" green is required for competitions.

The club is very proud also of the playing standards now achieved by its members since those first eleven matches in 1979. In 1983 the club joined an inter-village league, by 1987 they were the winners and runner-up also in 1989, 1990 and 1995. The club have since won the league, in its various formats, on a number of occasions.

Overall in 1994, of the seasons seventy-eight maches played, forty-seven were won, two drawn and twenty-nine lost. Most matches comprise mixed teams of men and ladies.

Individuals too have acquitted themselves with hounours: In 1989 Janet Roffe was runner-up in the County Singles and represented Hertfordshire in the all England National Competitions at Royal Lemington Spa. In 1992 a trio of ladies - Jane Harding, Doreen Hodson-Smith and Janet Roffe were runners-up in the County Benevolent Triples. A substantial number of men are all County "Badged" players; no mean feat when to qualify one has to be chosen to play in at least five inter County matches spread over not less than three seasons or its equivalent.
The club set new standards for itself, in the 2014 season, reaching the area final of the County Club Championship 3 rink competetion, retaining the Stevenage Mixed League title, losing only 1 of the 22 games played, winning the Welwyn Hatfield Bowls League Division 1, finishing runners-up in the East Herts Bowls League Division 3, with a team mainly consisting of brand new bowlers and supplying all of the finalists in both the Welwyn Hatfield and East Herts Bowls League Singles finals.

In 1995 Doreen Hodson-Smith was elected Junior Vice President of the Hertfordshire County Women's Bowling Association, which means she progressed via Senior Vice President in 1996 to become President in 1997. Father and son Jim and David Wright have both served as President of Letchworth and District Bowling Assocciation in 2000 and 2003 respectively.

The club is run by a Management Committee comprising of a Chairman, Secretary, Treasurer, together with three ordinary members, at least one, preferbly two, of whom should be female. This equality of the sexes is enshrined in the constitution, adopted on the 6th May 1985, in stark contrast to many traditionally run clubs where ladies are treated very much as second class citizens! As of 2014 there is a full Playing Membership of over eighty, including six junior members and twenty Associate Members. The club are always looking for new members whether they are experienced bowlers or novices (anybody interested should contact the club secretary).
Datchworth Bowls Club

Below are pictures from the 2003 Gala Day at the Club.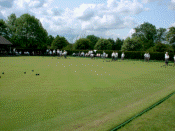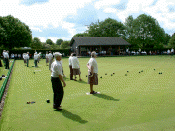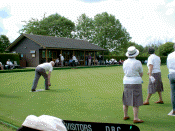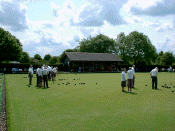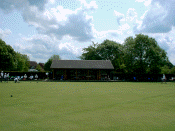 Top of Page